KaTom Restaurant Supply Shipping Information
Shipping costs: The shipping amount calculated on our website is the most accurate estimate we can provide; however, the actual shipping costs may differ. If the difference is greater than 15 percent, we will call and/or email you for approval before processing your order.
Multiple items: We will ship your order when at least 60 percent of the dollar value is ready to ship. The shipping charge will be billed on the first shipment, and all subsequent shipments will not be charged.
Free shipping: In order to provide the lowest prices possible to our customers, KaTom Restaurant Supply offers a select group of items with free shipping. This free shipping applies to regular ground shipping within the 48 contiguous United States only. Other charges will apply if you need items shipped Next Day Air or Second Day Air, if delivery is to a non-commercial address or if lift gate service is required.
Shipping partners: We ship most of our products via UPS, unless a customer specifically requests another carrier. When one of our larger items exceeds the UPS standard weight limits, we ship via a freight carrier (see below).
UPS transit times: The following map shows approximate transit times for UPS Ground delivery. Click on the image for a larger version. Times shown are guidelines and are not guaranteed.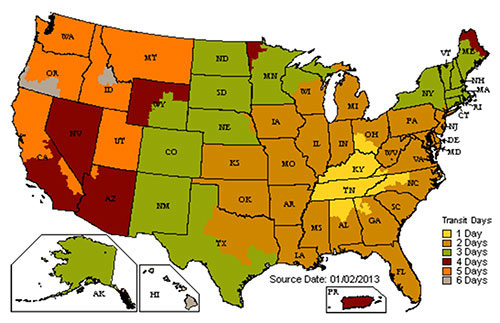 Delivery options: When checking out, you will be asked to select whether your ship-to address is Residential or Commercial.
A non-commercial address is any house, apartment, or other living space, even if you operate a business from such an address. If your item(s) are shipping via freight carrier, in most cases the carrier will contact you to arrange delivery. Also, schools and churches are considered non-commercial by freight companies.
A commercial address is defined by our freight carrier as a commercial site, typically with tractor-trailer access and a loading dock.
Lift Gate Service: When shipping via freight carrier, you will be asked at checkout to select Lift Gate Service. A lift gate is essential for all commercial and residential addresses without a loading dock and tractor-trailer access. A lift gate safely unloads items over 75 pounds from the truck down to ground level. Items shipped via freight carrier are typically bulky and heavy. If you do not select lift gate service, please be aware that the driver will NOT be able to assist in unloading your shipment and that it is solely your responsibility to promptly and safely remove your shipment from the truck.
Freight carrier shipment procedures: When one of our larger items exceeds the UPS standard weight limits, we ship via freight carrier. Please carefully read the following freight shipment procedures and follow them point by point when your delivery arrives. We highly recommend printing out this checklist for use during your delivery.
Verify the number of packages delivered with the packing slip provided by KaTom.
Unpack your order immediately and inspect for visible and/or concealed damage. It is critical to check your order while the truck driver is still present. The driver may try to rush you into signing forms so he can leave; do not let anyone rush you. Check the products as they are being delivered and note any potential damage on the delivery receipt/bill of lading. Remember: Once the driver leaves, you become responsible for reporting any damages to the freight company. KaTom Restaurant Supply cannot be held liable for those damages.
Do not sign delivery forms until you have thoroughly checked all of your items. The driver is responsible for waiting until the shipment has been thoroughly inspected and signed for.
Refuse delivery of any items with damage.
Should any damage be discovered, keep the shipping carton and any inner packaging intact. Verbally request inspection immediately from the driver and make a written request to the carrier. Hidden or concealed damage must be reported and an inspection must be requested within 3 business days.
If any damage is discovered (visible or concealed), contact KaTom customer service at 800-541-8683 to report the damage. Please have your order number, shipping information, and any available tracking number ready so we can quickly and accurately assist in the process.